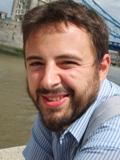 Functions :
Department : Management, Associate Professor
Field of research : Social enterprise and business ethics, Professor

B33 - Place des orateurs 1 - 4000 Liège

B.Huybrechts@uliege.be




General data :

Category: Académique

Biography: Prof. Benjamin Huybrechts is Associate Professor at HEC Management School, University of Liege (Belgium), where he holds the SRIW-Sowecsom Chair in Entrepreneurship and Social Innovation. He holds a PhD in Economics and Management (University of Liege) and has been on a post-doctoral research stay at the Skoll Centre for Social Entrepreneurship, Saïd Business School (University of Oxford). Besides several book chapters and a book on Fair Trade Social Enterprises (Routledge, 2012), he has published articles and edited special issues in several journals such as the Journal of Business Ethics, the International Small Business Journal, Entrepreneurship and Regional Development and the Annals of Public and Co-operative Economics. His research topics include novel hybrid organizational forms in the area of social enterprises and cooperatives, the emergence and diffusion of social innovation, and cross-sector partnerships and networks. Prof. Huybrechts investigates these issues using mainly institutional theories in fields such as fair trade, renewable energy, recycling and culture. Prof. Huybrechts teaches courses in entrepreneurship and innovation, social innovation and social enterprise governance, as well as a doctoral seminar in social entrepreneurship.

Teaching data :
Courses :
Research data :

Research centers :
CES (Centre d'Economie Sociale)

Thesis title : [2010] Explaining Organisational Diversity in Fair Trade Social Enterprises Ph.D. in Economics and Management
Publications: Click here