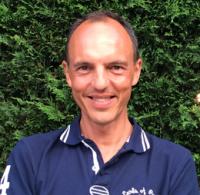 Functions :
Department : Operations, Full Professor

N1 - 312 - rue Louvrex, 14 - 4000 Liège

Pierre.Deneye@uliege.be

+32 4 2327323



General data :

Category: Académique

Biography: He obtained a MSc (ULg, physics )and a DEG. Prize for best dissertation in the field from Société belge de physique. Mandate from IISN ( Institut interuniversitaire des sciences nucléaires). Successively assistant lecturer, lecturer and full professor at HEC-ULg ( technology & science). Also interested in practical side ( 2-year training in electricity & industrial electronics, and in industrial innovation). Particularly interested in innovatory pedagogy ( Integrated Technologies seminar ) with a view to having the different steps of an innovative project from conception to finished product come to life, which is especially relevant to HEC-ULg will to stimulate entrepreneurial skills, and managers as innovators. Regular update of modern tools like programmable automatons ( Siemens ) or National Instrument Labview IT environment in order to keep abreast of current technological research.

Research data :

Thesis title : [1991] Dynamic aspects of the annihilation of antiprotons on atomic nuclei Ph.D. in Physics
Publications: Click here