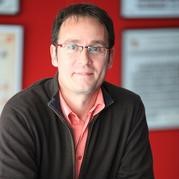 Functions :
Department : Management
Field of research : Strategy & Performance for the Society, Senior Researcher

N3 - Rue Louvrex 14 - 4000 Liège

mmanjon@uliege.be




General data :

Category: Scientifique

Biography: Michel Manjón-Antolín is senior research associate at the Smart City Institute and a part-time Associate Professor at the Department of Economics of the Univerty Rovira i Virgili (Spain), where he has developed most of his academic career. He has also held visiting positions at the universities of Warwick, Tilburg and KU Leuven, worked briefly at the Netherlands Bureau for Economic Policy Analysis and the European Commission (DG for Internal Market, Industry, Entrepreneurship and SMEs, GROW/A Competitiveness and European Semester), and taught (short) courses at the Universities of Valencia, Saint-Louis Bruxelles, and KU Leuven. His research interests include applied econometrics, urban and regional science, and empirical industrial organization. He has co-authored more than 25 JCR papers. 

Research data :

Thesis title : [1999] Ph.D. in management
Publications: Click here