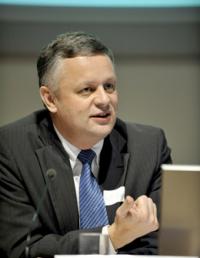 Functions :
Department : Finance and Law, Associate Professor

N1 - rue Louvrex, 14 - 4000 Liège

Michel.deWolf@uliege.be




General data :

Category: Académique

Biography: Professional occupations: Certified Public Accountant - managing partner "DGST réviseurs d'entreprises". Professor, Université Catholique de Louvain & Visiting Professor, HEC Management School - University of Liège (tax law, accounting law and standards, company law, financial analysis). Judge, Commercial Court, Brussels. Publications: 21 books, around 150 articles or equivalent, 4 syllabi, 5 editorial functions, mainly in tax law, accounting law and company law. Various: Vice-President of the Belgian Institute of Certified Public Accountants. Chairman of "I.E.C." (a global network of small and medium-size auditors firms). I.E.C. representative for the Forum of Firms. Mitchell Carroll Price of the International Fiscal Association. Founder and co-author of the website "www.businessandlaw.be". Chairman, Les Jeunes Entreprises. Member, secretary of the Board and member of the Audit Committee, Junior Achievement Worldwide (based in Colorado Springs, USA).

Teaching data :
Courses :
Research data :

Thesis title : [1993] Fiscal sovereignty and internal market in the case law of the European Court of Justice and the Supreme Court of the United States Ph.D. in Law
Publications: Click here